Skip Navigation
Website Accessibility
About Our Ski Shop
Whether you're in Breckenridge for a weekend getaway, an extended stay, or embracing a lifelong love for the slopes, A Racer's Edge is your go-to destination for all things skiing. We're here to provide you with top-quality boots, skis, and ski equipment, ensuring that your mountain adventure is filled with fun and excitement.
With over 300 years of combined expertise in skiing, tuning, fitting, racing, and free riding, our team is passionate about what we do. We do it all for the sheer joy of it, and we're dedicated to ensuring you have the best time imaginable on the mountain.
At A Racer's Edge, we offer a wide range of services to cater to your needs. From precise boot fittings to expert ski tunes and access to high-quality equipment, we've got you covered. Simply drop by or give us a call, and we'll take it from there. Your mountain experience is our priority, and we're here to make sure it's nothing short of fantastic. Please note, all boot-fittings require an appointment. Please call (970) 453-7600 or stop in our store to make an appointment.
---
Meet Our Boot Fitters!

Zach Dobrota




The 2023/2024 winter season marks my 11th year with A Racer's Edge, and my 17th year in Summit County working in the ski industry. With a background as a ski coach and guide, I approach boot fitting through an anatomical lens, recognizing the uniqueness of each person. I've had the privilege of assisting everyone from beginners to multiple Olympic medalists and professional athletes.

When I'm not at the shop, you'll frequently spot me with a golf club in hand, whether I'm giving lessons, coaching the local high school team, or competing in golf tournaments. During the summer months, I proudly serve as the Head Golf Professional at Copper Creek Golf Course at Copper Mountain. I'm lucky to share my passions with my wife, Abbey. We're often seen together enjoying activities like biking, skiing, golfing, or simply indulging in too much coffee!



Chris Krance


With 17 years of experience in the ski industry, I've spent the past three seasons as a dedicated boot fitter at A Racer's Edge. My roots trace back primarily to Colorado Springs, and I've honed my park skills on the slopes of Breckenridge. I have a degree in Ski Resort Business Management and Business Administration from Western State University in Gunnison, Colorado.

My expertise lies in three-piece boots and freestyle skiing, and I've recently expanded my skill set to include race boot customization, which has proven to be incredibly rewarding. I excel in addressing flexion issues and ensuring that skiers with limited mobility can fully enjoy the slopes. I thrive on tackling challenging problems, no matter how complex they might be. In the shop, I'm known as the resident jokester, always ready to bring a smile to everyone's face!

Beyond the shop and mountain, you'll find me riding my mountain bike, enjoying a round of golf, and embarking on road trips with my wife. Our furry family includes a dog named Duggie, and two cats, Maui and Wowie.


Tyler Eaton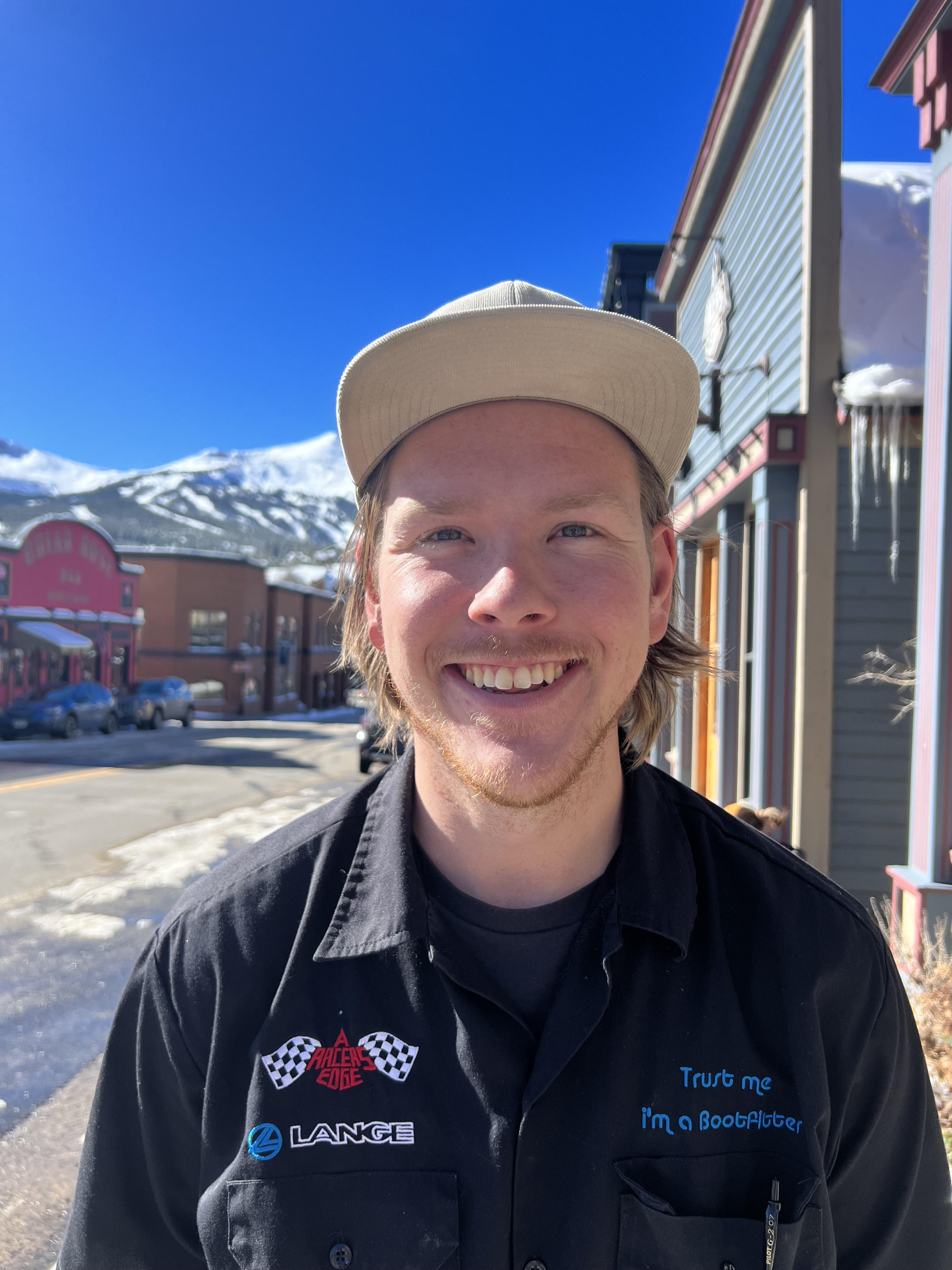 This year is first season at A Racer's Edge, though I have over 8 years of experience working in the ski industry. I started my career as an adaptive ski instructor in Duluth, MN when I was 16 years old. I moved to Breckenridge in 2020 to continue my passion with the Breckenridge Outdoor Education Center (BOEC).

Although I'm new to the team here at A Racer's Edge, I am eager to assist you and get you out enjoying the snow! When I'm not in the shop or teaching folks how to ski, I spend my time with friends, playing soccer, or enjoying some freeride days to myself.






Conner Martin




While I may be the one asking you for your secret spots on the local hills this year, I have been boot fitting for the last four years in the Seattle area, and have spent the past summer honing those skills here at A Racer's Edge.

I will continue to bring my PNW touch and experience with not only boot fitting, but backcountry as well. I'll even work on your soaking wet, 900 gram, ultra-light carbon touring boots. Though A Racer's Edge is introducing me to skinny skis, I consider myself an expert in the 110-120mm underfoot range. I look forward to working with you to get your boots dialed and get you skiing faster than all your friends.








Luca Firpo





Born and raised in Argentina, I cultivated my love for the mountains exploring the Andes before venturing to Breckenridge three years ago. This winter is the start of my second year as a boot fitter at A Racer's Edge, where I've found my niche and passion. Assisting individuals in finding comfort and confidence in their ski boots has become incredibly rewarding.
Skiing has been ingrained in me since the age of 3, and over the years, I've immersed myself in various roles within the ski industry—working as a ski instructor, ski tech, and photographer. I started my instructing career when I was just 17 years old. I made a significant move to Breckenridge to continue my passion for instructing and became a children's instructor here. Three seasons later, I still continue to teach at Breckenridge Ski School when I'm not at the shop boot-fitting.




---
---

Meet Our Tuners!

Peter Holton

I bring four years of experience as a ski tuner at A Racer's Edge, paired with an additional four years of prior tuning expertise. My journey in the world of skiing began in Vermont, where I learned to ski at the age of two at Mad River Glenn.
My journey eventually led me to Summit County, where I've spent the last nine years pursuing my passion for skiing to the fullest. Whether I'm tucked away downstairs tuning skis, or relishing time on the slopes, skiing is one of my biggest passions in life.
In the warmer months, I'm all about skateboarding and playing disc golf. Winter finds me splitting my time between skiing at A Basin and Copper, as well as venturing into the backcountry to discover new, uncharted spots. My commitment to the sport and the mountains runs deep, and I'm here to help you make the most of your skiing experience.
J.R. O'Neil

This is my second winter tuning skis at Racer's Edge and I'm loving it! It is great to be able to work with my hands and have pride over seeing a freshly tuned ski. I have been living in Breckenridge for three years,
initially drawn here by an opportunity to work with the Breckenridge Outdoor Education Center (BOEC), a non-profit in town. At the BOEC, we specialize in teaching skiing or snowboarding

to individuals with special needs or disabilities, employing a variety of adaptive equipment.



Besides skiing for fun on my off days, I love building jumps in the back country, if you find yourself skinning up Mt. Baldy in Breckenridge, you may come across one of my jumps!